Former employees Shannon and Sean Mullan are now the proud new owners of Disc Nation!

The Disc Nation Super Store in south Austin, as well as DiscNation.com, is now under the management of its new owners Shannon and Sean Mullan. 5th Generation Austinites and industry veterans, they are dedicated to bringing Austin the best a disc golf retail shop can offer.

Together, Shannon and Sean have cultivated a knowledge of the industry and have nurtured a deep passion for the growing sport of disc golf. They believe that with hard work and dedication, they can make Disc Nation - Austin your go-to local disc golf store!

Bios

Shannon started her journey in disc golf more than seventeen years ago as a player, becoming a professional in only a few years. After spending a few seasons competing she opened her own disc golf vending business at Mary Moore Searight Park in 2008 turning her passion for the sport into her career. In January of 2011 Shannon was hired by Disc Nation and soon began managing the Disc Nation Superstore in Austin.

Sean also began his love affair with disc golf more than seventeen years ago at the suggestion of a friend. "I was hooked by the putt on the first hole. I knew it would end up taking over my life when I heard the chains." Although classified as an amateur, Sean has competed at the professional level a few times and intends to move up, "When I learn how to putt." Sean joined Disc Nation in June of 2011 working as Warehouse Manager within his first year, providing top notch order processing and inventory management.

We also have knowledgeable staff to make any recommendations, give advice, and answer any questions you might have. From Bags to baskets, accessories, ultimate discs, a huge used disc selection, and of course over 10,000 discs in stock, Disc Nation - Austin in your one stop shop for all things Disc Golf.
MASKS REQUIRED IN-STORE DUE TO COVID-19
The Disc Nation Austin SuperStore
Our long-time customers know that Disc Nation is a leader in online disc golf retailing, offering the broadest selection of disc sports products available anywhere. Based on the success of our internet and mail-order business, we launched our first physical retail location in 2006. Our Slaughter Lane Superstore in Austin, TX features a huge selection of the items you see on-line, plus:
Map to all Austin area disc golf courses
Exclusive Store-Only Specials & Events!
Purchase and Sale of Used Discs
Lost Disc Return (Bring in a found disc and receive good karma)
Free scorecards, pencils and printed directions to Austin Courses
Professional Disc Golf Lessons provided by Appointment
Hours of Operation
Monday:
10:00
to
6:00
Tuesday:
10:00
to
6:00
Wednesday:
10:00
to
6:00
Thursday:
10:00
to
6:00
Friday:
10:00
to
6:00
Saturday:
10:00
to
6:00
Sunday:
10:00
to
4:00

Holiday Hours


New Year's Day: Closed
Easter Sunday: Closed
Memorial Day: 10:00 am - 2:00 pm
July 4th: 10:00 am - 2:00 pm
Labor Day: 10:00 am - 2:00 pm
Thanksgiving: Closed
Christmas Eve: 10:00 am - 2:00 pm
Christmas: Closed
New Year's Eve: 10:00 am-2:00 pm
Location & Directions
Click for interactive map
The Disc Nation Superstore is conveniently located in South Austin between the Mary Moore Searight and Circle C disc golf courses on
Slaughter Lane in the HEB shopping center between Aaron's and Papa Murphy's
(about 1/4 mile West of Mary Moore Searight and about 5 Miles East of Circle C). Our store is easily accessible from I-35 and MOPAC (Loop 1). Our address is:
2110 West Slaughter Lane Ste 174
Austin, TX 78748
(512) 280-1115

Interactive Directions:
Use Google Maps to get directions
to Disc Nation.
Use MapQuest to get directions
to Disc Nation.
From the North Via Route 35 (I-35)
Take Route 35 South to Exit 227 (Slaughter Lane)
Follow Ramp to the Right and Go West on Slaughter Lane 1.8 Miles
Go through the intersection of Slaughter and Menchaca.
Turn into the HEB shopping center and continue to your right.
Disc Nation is located between Aaron's and Papa Murphy's.
From the North Via MOPAC (Loop 1)
Take MOPAC South to the Slaughter Lane Exit
Take a Left to Go East on Slaughter Lane about 3.8 Miles
Turn left into the HEB shopping center at Menchaca and Slaughter
Turn right and look for the Aaron's and we're right next door
From the South Via Route 35 (I-35)
Take Route 35 North to Exit 227 (Slaughter Lane)
At light at end of Ramp, Turn Left and Go West on Slaughter Lane 2 Miles
Pass the Slaughter and Menchaca intersection and turn right into the HEB shopping center
Look for the Aaron's on your right, and we're right next door

Austin TX Disc Golf Courses
With the abundance of disc golf courses in Austin, let our map be your guide!
Find the number of holes and general difficulty level of the course. Visit our Championship Courses for the finest Austin has to offer. Find download links below the map.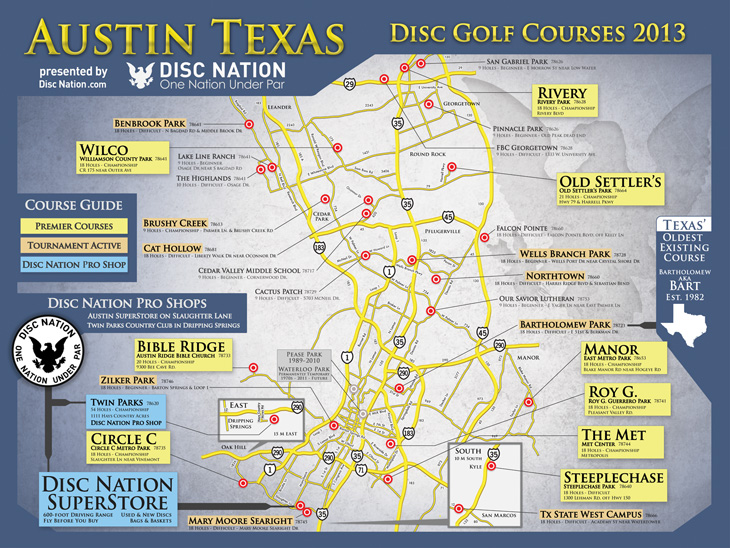 Click here to download an 8.5x11 black and white printable copy (150dpi) of this map.
These black and white maps are available for free at the Disc Nation SuperStore in Austin.
Click here to view a large copy of the Austin course map in a new window.
13"x19" heavy-weight color prints of the Austin course map are available for sale at the Disc Nation SuperStore in Austin.
Roy G. Guerrero Course Scorecard and Map
Austin's newest state-of-the-art course is Roy G. Guerrero. Opened in early June 2012, Roy G. is a gem of challenging play and a model of environmental consideration and sustainability.


Click here
to open the Roy G. scorecard in a new window for printing.

It's not surprising that the Austin-area is home to a collection of great disc golf clubs, including one of the nation's oldest (Waterloo Disc Golf Club), and one centered in the neighborhood of the first Disc Nation Store (South Austin Disc Association). If you live in the Austin-area and play disc golf, then you should support these clubs through your membership and by participating in as many club activities and work days as possible. These clubs make it all happen and are largely responsible for Austin having such a great disc golf culture. If you don't live in Central Texas, then find a club in you area and start supporting the growth of this great sport. If there are any clubs that aren't listed, or you've just started your new club and want some representation, feel free to e-mail us your information.

Below is a list of the clubs in our area, or that we support.
Central Texas Disc Golf Clubs
Waterloo
What can you say about a Disc Golf Club whose flagship tourney is in its 30th+ Annual? This club has been a mainstay in the Disc Golf Community since before most of us ever played. Waterloooooo! Please click their logo to visit their website.
South Austin Disc Association
I don't think we could introduce this club better than they have introduced themselves on their web site, "If you're looking for a group of people that have fun and make a difference then look no further. Our goal is to organize the disc golf community and get some of our tax dollars back to places we use the most." Please click their logo to visit their website.
SinTex Misfits DGC
Dedicated to playing and improving disc golf in the central Texas area. Weekly mini (*) with rolling ace pot every Sunday a.m., a different course each week, including 10-week Fall and Spring Leagues! (*No meetup the weeks of Thanksgiving and Christmas.) Contact Info Email: sintexmisfits@gmail.com . Check out the SinTex Misfits Group Page on DGCR and Facebook page
Smithville Disc Golf Association
Smithville has expanded its course to 18 holes and is building a fine disc golf community of its own. Check out the Smithville Disc Golf Association website and Facebook page